Losing virginity is rather a big deal for people. Yes, of course people long to have sex with someone they love, someone special but there will be plenty of love stories that have at least one virgin, be it a girl or a guy. However, how would you know if he/she is a virgin? There will be many signs that can tell if a girl is virgin or not but what about guys? Are there signs to tell if a guy is virgin or not? Yes, indeed there are signs that can show if a guy is a virgin or not. However, virginity doesn't matter at all when it's the matter of heart but how would you know if you will be having an upper hand in bed or him.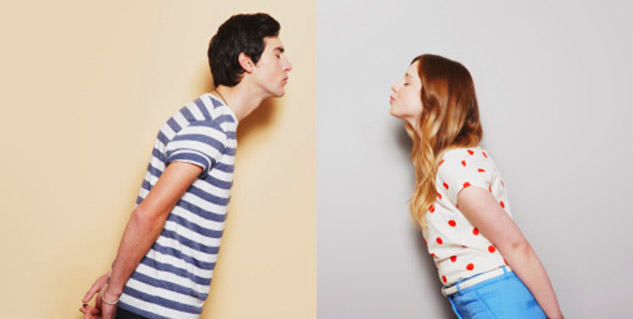 Here are some signs that will give away whether he is a virgin or not.
You can ask them
The fact is that there is no anatomical and sexual way of telling if a guy is virgin or not. They look normal, they walk and talk like other normal guys. The primary and easiest way would be to ask them. If you think the guy you are dating is a virgin, just go ahead and ask. However, you if you think he is a virgin, just give him some time, let him gain confidence in you and then you can ask him whether he is a virgin or not. If you have gained his confidence, chances are less that you will hurt his ego.
The touch-me-not types
Although, the urban culture has somehow managed to overcome the communication barrier between men and women with a friendly work culture, the virgins will always shy out in front of girls. A virgin guy would usually talk to a woman normally without any hesitation but physical contact for such guys is a big deal. They will instantly apologize if they touch you unintentionally. Talking to a crush seems like a battle for such guys.
The awkward kisser
A virgin will be a very awkward kisser. You cannot expect a seasoned kisser. There will be awkward engulfing of lips. Yes, it will be a turn off to get kissed by a virgin at first. Either they will suck the life out of you or they won't respond to your kiss, instead you can expect tightly shut lips while you do the entire job. And there will be no tongue.
They will always ask for permission
While getting physical intimate with you, they will always ask for your permission. Yes, for each and every move they will first ask for your permission while making sure that whatever you they do, you like it. More than their own pleasure, they will stress on yours. They will try every bit to please you.
The quick climax
Once they start, it will be a quick climax. Indeed, the excitement for the first time would be so high that they'll cum way too quickly.
Image: Getty

Read more articles in Sex & Relationship.
For more such stories, Download Onlymyhealth App.