Dates are full of taste and nutrients. And on such an auspicious occasion as Ramzan, popularity and importance of eating Dates doubles up. So, today we teach you a scrumptious date burfi recipe for Ramzan. This date recipe allows you to fuse taste and health together. This Ramzan special dessert will amplify the joy and excitement of Ramzan.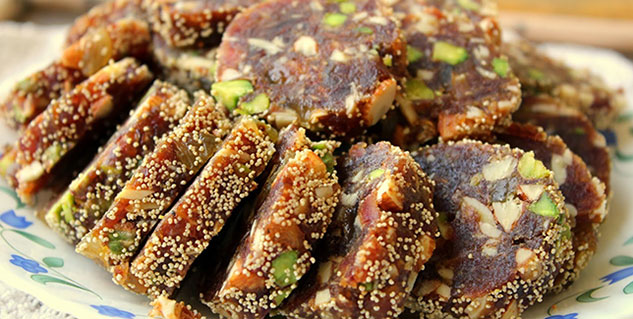 And the best part that this recipe won't take much time and is simple and easy to prepare.
Ingredients
Walnut – ½ cup (approx. 50 Gms)
Cashew nuts – ½ Cup (approx. 50 Gms)
Pistachio – 2 Tbsp (approx. 20 Gms)
Almonds – ½ Cup (approx. 50 Gms)
Finely grated Coconut – ½ Cup (approx. 25 Gms)
Poppy seeds – 2 Tbsp (approx. 20 Gms)
Charoli (Chironji) – 2 Tbsp (approx. 20 Gms)
How to make Date Burfi
First of all chop the dates and remove the seeds. Along with that finely chop cashews, almonds, walnuts and pistachio.
Now, powder the nutmeg and cardamom. Keep aside.
Take a pan and roast the cashew, almonds and walnut in ghee for about two minutes, keep moving the ladle till the nuts are golden brown. Now add the nutmeg and cardamom powder and along with that add the grated coconut and charoli (chironji) and mix well.
Keep the mixture aside. Let it cool.
Now, moist your palms with a little ghee and make dough out of the mixture. Make a big thick chapatti and then cut small pieces from it.
Dust the pieces with the pistachio powder.
Image: Getty

Read more articles in Diet & Nutrition.
For more such stories, Download Onlymyhealth App.